Vedic Meditation Rounding Retreat
Sedona, Arizona
May 23-27, 2024
RETREAT WITH THOM AND EXPAND YOUR BASELINE OF BLISS
You're invited to a rare opportunity to learn with Thom in person, enjoy deep restfulness and elevate your state of consciousness.
Give yourself the gift of a meditation retreat in Arizona. You'll emerge refreshed with courage, invincibility, and staying power to meet the need of the time effectively. You'll bring about greater happiness not just for yourself but for all surrounding you.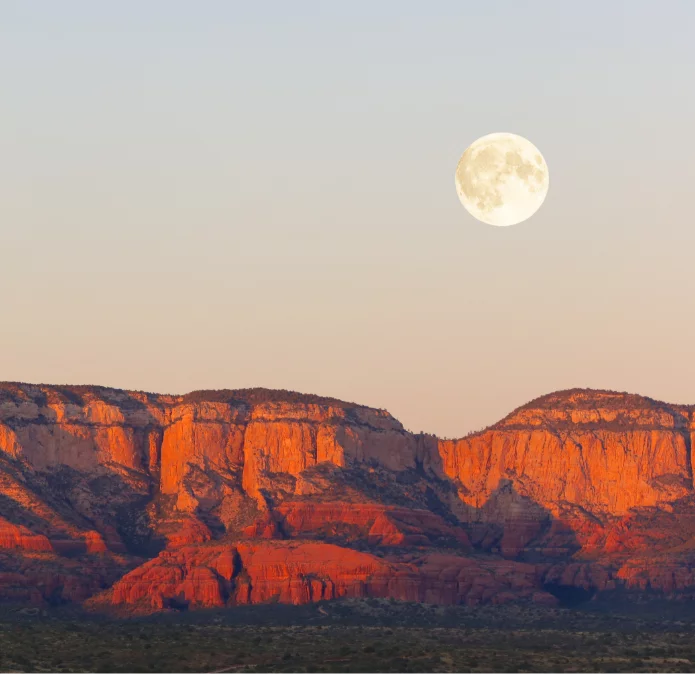 Thom answers every question
Our annual in-person Rounding Retreat with Thom brings ample opportunities to discuss everything on your mind.
In our twice-daily knowledge sessions, Vedic Meditators are encouraged to open up any topic of discussion with Thom.
Having gained greater depths of Vedic knowledge and its practical application in everyday life, meditators will return to their lives with clarity of thinking, expanded happiness, and greater purpose.
OUR RETREAT DESTINATION
Mago Retreat Center is a healing campus located among the majestic Red Rocks of Sedona.
Stillness in Nature
173 acres of sprawling retreat space
Walks on tree-lined paths
Shaded gazebos on the Red Rocks for rounding and relaxation
Serene lake and outdoor pool
Accommodation and Meals
Climate controlled casitas
Comfortable full beds and private or semi-private baths
Farm-to-table fare sourced from local farms
Spacious indoor and outdoor dining areas
Sustainability
Certified sustainable center
Composted meals
Recycled wastewater
Reduced carbon footprint
Minimalist accommodations

WHY ATTEND A ROUNDING RETREAT?
Thom's annual Rounding Retreat is among the best meditation retreats in the US.
Enjoy Shared Experience
Meet and create friendships with other meditators from around the world
Enjoy profound group meditations, meaningful conversation, and nourishing meals with the Vedic Meditation community
Enhance Your Knowledge
Learn how to round
Enjoy lectures and Q&A sessions with Thom, a living master of Vedic knowledge
Receive personal instruction and a tailored going-home program
Rapidly Release Stress
Release up to 6 months' worth of accumulated stress in 5 days of rounding
Experience how extended periods of Rounding and rest will allow the deepest-rooted stresses to dissolve simply and naturally
Accelerate Your Personal and Spiritual Growth
Experience restored creative intelligence
Gain clarity of mind and a sense of purpose
Step fearlessly into being an agent of progressive change with an expansive state of awareness
WHAT IS ROUNDING?
A 'Round' is an advanced technique incorporating yoga and breathwork into your current meditation program to relax the body and mind for more profound meditation experiences.
When performed several times in a row, under the supervision of a trained Initiator on retreat, meditators experience deeper levels of rest and stress release than can be achieved in regular meditation at home.


SAMPLE DAILY SCHEDULE
| | |
| --- | --- |
| 7:00 am – 8:00 am | Group Round |
| 8:00 am – 9:30 am | Breakfast |
| 9:30 am – 12:00 pm | Free Time / Rounding |
| 12:00 pm – 1:00 pm | Lunch |
| 1:00 pm – 3:00 pm | Lecture with Thom |
| 3:00 pm – 5:00 pm | Free Time / Rounding |
| 5:00 pm – 6:00 pm | Group Round |
| 6:00 pm – 7:30 pm | Dinner |
| 8:00 pm – 10:00 pm | Lecture |
| 10:00 pm – 10:30 pm | Sama Veda |
JOIN THOM IN SEDONA FOR A TRANSFORMATIONAL IN-PERSON EXPERIENCE.
Registration opens on December 1, 2023.
Rounding Retreat investment
Single occupancy casita
USD 4,000

Climate-controlled private room
Full-sized bed, private bath
Registration opens on September 1st
DOUBLE occupancy casita
USD 3,300

Climate-controlled shared room
Full-sized bed, shared bath
Registration opens on September 1st
Included in your experience:

5 days, 4 nights
Roundtrip transportation between Mago Retreat Center and PHX Airport
Vegetarian meals and snacks
Twice-daily knowledge talks with Thom
Rounding instructions and group rounding sessions
Personalized going home program
health & safety
Each participant will submit a lab-administered negative COVID PCR test taken 24 hours before the retreat begins (at an additional cost to the participants, typically USD 200-300)
We will administer one additional test on day 3 of the retreat.
We will continue to monitor the status of COVID-19 and adjust our health and safety guidelines accordingly.

Frequently Asked Questions
Who Can attend this retreat?
All graduates of an in-person Vedic Meditation course are welcome to join our meditation retreat in Sedona, Arizona.
if i don't yet practice vedic meditation, can i still register?
You may register for the retreat now and make arrangements to learn Vedic Meditation before joining us on retreat. We will be happy to connect you with a teacher in your area. Please note that Vedic Meditation teachers teach mainly in major metropolitan areas; you may be traveling to learn Vedic Meditation in one of these cities prior to attending the retreat.
What's not included with registration?
-International and domestic flights to Phoenix
-Lab administered PCR tests, taken 24 hours before arrival (required for our retreat, USD 200-300)
-Advanced Technique training with Thom
-Private consultations with Thom
Can you cater to dietary restrictions?
The culinary team at Sedona Mago, who hosts several of the top meditation retreats in the US, creates delicious meals that cater to all dietary preferences. There are many gluten-free, dairy-free, and vegan options to choose from. Once you have completed registration, we will be in touch to discuss with you any dietary preferences you have, if any.
Will I have any 1-on-1 time with Thom?
Thom is available for a limited number of paid private consults on retreat. Please send us an email if you'd like to reserve an appointment in advance.
Will there be any other instructors on the retreat?
Thom will have a team of qualified Initiators who will be guiding you through the process of rounding. They will be available to answer any questions.
When does the retreat start? When does it end?
Our retreat with Thom begins at 4:00 pm on Thursday, May 25th. Check-in starts at 2:00 pm.

We have arranged transportation from Phoenix Sky Harbor International Airport (PHX) to our retreat center. This is included in your retreat fee and will be at no extra charge to you. Please book your flight to arrive no later than 11:00 am. Our last shuttle departs from PHX at 12:15 pm.

Our retreat officially ends after lunch on Monday, May 29th. We will have transportation available to PHX to accommodate your departure schedule. If you'd like to stay an extra day or two at Mago, you can make arrangements directly with the retreat center.
What happens if I release stress physically or emotionally during retreat?
Stress release is a normal and natural process of participating in a residential rounding retreat. While most experiences on retreat are blissful and joyous, one may experience some fatigue or emotional release as layers of stress are released from the physiology. We have an expert team of Initiators who will be personally overseeing the rounding experiences of all meditators on retreat and gently guide you through the process of release. You will also be able to share your experiences with Thom directly at lecture.
WHAT ARE YOUR VACCINATION AND TESTING REQUIREMENTS ON RETREAT?
While proof of vaccination is not mandatory for retreat attendance, each participant must submit a lab-administered negative PCR test taken 24 hours before the retreat begins. A lab-administered test typically costs between USD 200-300 and will be at an additional cost to the retreat participant. We will also be administering additional testing upon arrival to the retreat and on day 3 of the retreat, at no additional cost to the participant.
Are payment plans available?
A non-refundable $1,000 deposit is required to hold your space for our retreat. If you are paying in installments, the second payment (50% of the remaining balance) is due by March 1st. The final balance is due by April 1st.
What if I need to cancel or can't make the trip?
All payments are non-refundable.
We strongly encourage the purchase of trip cancellation insurance for protection against any potential loss of fees.
Does this retreat count toward my 'high rounding' prerequisite for initiator training?
Yes, this retreat satisfies the rounding pre-requisite for Thom's Initiator Training program.
Experience a life-changing 5 days of Vedic wisdom, deep and blissful rest, and new connections with other meditators.
Join Thom in Sedona for one of the most nourishing experiences available to meditators: one that will enliven you for years to come.
Sedona Retreat Payment Option – Single
SEDONA ROUNDING RETREAT 2024 INTEREST LIST